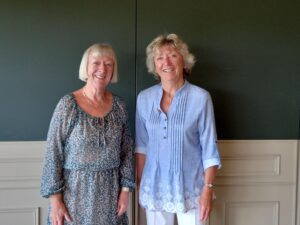 Our Captain Brenda Gilbey with her opposite number from Kent Kathie Mabberley.
Once again, we had beautiful weather for the first match of the season.  Redlibbets, close to Brands Hatch was challenging!  The course was looking good, although many of the Sussex team struggled with the greens which were a tad slow. Sadly, we were defeated by Kent 6.5 to 1.5.  Congratulations go to Alison Lush and Joanna Greenstreet who won their match and saved us from the embarrassing walkover!  Needless to say, the scores don't always reflect the overall result and there were some close games.
My thanks go to all the players that took part and especially to the last-minute reserves that saved the day.
Brenda Gilbey
14.05.22