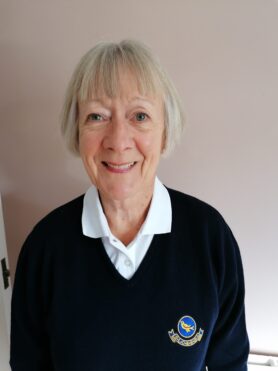 Brenda Gilbey
Captain 2022
A very warm welcome to all Lady Captains & Secretaries both past and present, to our website, Sussex Lady Golf Captains.  My name is Brenda Gilbey and I am honoured to be the Association's Captain for 2022.
SLC&SGA was formed in 1962 by Miss Joy Graham of Royal Ashdown Forest GC for FUN!  Additional founder members were Miss Margaret Ackford from Bognor Regis, Mrs Jackson from Cooden Beach and Mrs Leonie Law from Goodwood.  Joy Graham was Captain until her death in 1982.  In May 1964 membership stood at 132 and currently stands at 450.  The first match against another County was played at Liphook in 1963 v. Hampshire since when matches have been extended to include Berkshire, Kent and Surrey.
Membership is open to any lady who has been a Captain or Secretary of a Sussex Golf Club and we hope that existing members will encourage other past Lady Captains or Secretaries in their Club to join the Association.
We have our usual friendly but competitive programme of meetings and matches against nearby Counties and any member with a handicap high or low can participate.  Please see Events & Entry Forms page for details, together with results.
I look forward to meeting many members during the course of the year and wish you all a very successful and enjoyable golfing year.
If you would like to join our Association please complete this application form and send it to our Admin Secretary at slcsgaadsec@gmail.com
What a glorious day we had on 20 th June for President's Day at Cooden Beach Golf Club. The course was in excellent condition and the food was exceptional.
81 ladies competed in teams of three for the Presidents Trophy and there were some very good scores the ultimate winners with a score of 82 points were a team from Pyecombe, Helen Woodcock-Downey, Marian Smith and Alison White.
Thank you to Cooden for hosting the event. To Joanna Greenstreet for all her hard work with the start sheet, and to Joanna and Brenda Gilby for checking the cards for the results.
Jane White
President
The start sheet for the Presidents Day at Cooden Beach GC on Monday 20th June 2022 can be found here.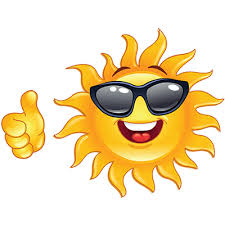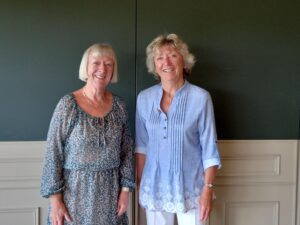 Our Captain Brenda Gilbey with her opposite number from Kent Kathie Mabberley.
Once again, we had beautiful weather for the first match of the season.  Redlibbets, close to Brands Hatch was challenging!  The course was looking good, although many of the Sussex team struggled with the greens which were a tad slow. Sadly, we were defeated by Kent 6.5 to 1.5.  Congratulations go to Alison Lush and Joanna Greenstreet who won their match and saved us from the embarrassing walkover!  Needless to say, the scores don't always reflect the overall result and there were some close games.
My thanks go to all the players that took part and especially to the last-minute reserves that saved the day.
Brenda Gilbey
14.05.22